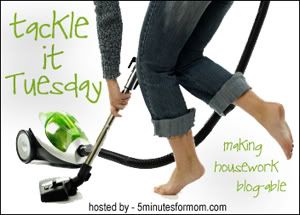 This week we have THE CLOSET TACKLE. According to the dates on the pictures, I've been working on this since the end of June! Now, it's possible that I just took the messy closet picture on that date, and didn't do any work on it until late July... I'm really not sure anymore.


Anyway, this is the before picture. It's actually hard to see just how stuffed this closet really is. It is about four feet deep, and it is literally jam-packed at this point.



Oh, isn't that cute. Here is an intermediate state where I'm trying to show how much work I've done... only, it's STILL really full.



Ahh, now that's quite a bit better! I can actually see the floor.



Today, the shelving arrived, so here it is. I plan on using these shelves to store bulk food items.



Here's another view where you can see how much shelf space there is a bit better. Oh, and look my sewing machine is now at the FRONT of the closet... just in case I decide I want to use it :)