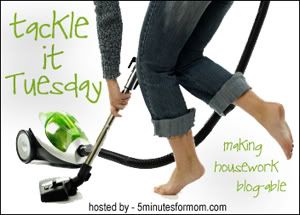 http://www.5minutesformom.com/

I just did a small tackle this week. I had bigger plans, but only one project was done.

The lighting didn't work out too well in the pictures, so I don't know if you can really see the improvement.

The old blinds came with the house. I thought they were kind of cute, and I didn't feel like buying anything new, so we kept them for two years. A couple of the blinds were contrary and never seemed to open or close when we wanted them to. After two years of that nonsense, I decided it was time to replace them.

Notice how each blind is open to a different level. That pretty much drove me nuts!!




The new blinds let in a lot of light, but keep out the heat. They really changed the way the room looked in the evening.




Look! When they are up, you can't really see them at all!!




Next week I hope to get to a closet that is just STUFFED full of things, or maybe my desk would be good since it's stacked with about three feet worth of odds and ends.